Skeleton Key Hawaii Presents: Terror Planet!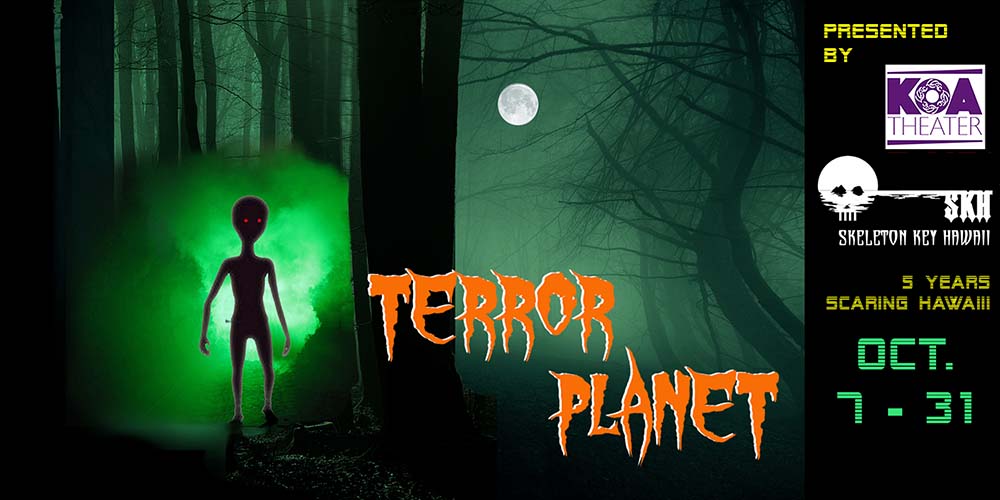 This year Skeleton Key Hawaii presents Terror Planet.
Our Haunt returns to KOA Theater, and runs weekends (and a couple of weekdays) from Oct. 7-31
We broke attendance records last year, and expect an even bigger turnout this year. For the most relentless, hair-raising haunted attraction in the Hawaii, don't miss Skeleton Key Hawaii's Terror Planet. The event is created by long-time theater practitioners, with an attention to detail in sets, lights, and performance like no one else around!
AS A THANK YOU FOR 5 YEARS OF HAUNTING:
FIRST WEEK SPECIAL – $10 TICKETS
SECOND WEEK SPECIAL – $20 TICKETS
THIRD WEEK SPECIAL – $25 TICKETS plus VIP and No-Scare times!
We are conveniently located in the greater Kakaako area, right near the Transit Center.
Follow us on Social Media by clicking the icons below.
Our hours and ticket prices:
PLEASE PURCHASE ALL TICKETS ONLINE BEFORE HEADING TO OUR HAUNT
Friday, Oct. 7 7:00 – 9:30 $10
Saturday, Oct. 8 7:00 – 9:30 $10
Friday, Oct. 14 7:00 – 9:30 $20
Saturday, Oct .15 7:00 – 9:30 $20 / Chicken Skin(less) $5
Friday, Oct. 21 6:30 – 10:30 $25 / VIP $40
Saturday, Oct .22 6:00 -10:30 $25 / VIP $40 / Chicken Skin(less) $5
Sunday, Oct. 23 6:00 – 10:00 $25 / Chicken Skin(less) $5
Thursday, Oct. 27 7:00 – 9:30 $25
Friday, Oct. 28 6:30 – 11:00 $30 / VIP $50
Saturday, Oct. 29 6:00 -11:00 $30 / VIP $50 / Chicken Skin(less) $5
Sunday, Oct. 30 6:00 – 10:00 $30 / VIP $50 / Chicken Skin(less) $5
Monday, Oct. 31 6:30 – 10:00 $30 / VIP $50
Again this year we will have Timed Ticket Entry to help cut down on wait times. Please arrive shortly before your scheduled entry time and you will be entering the attraction within a 30-minute window.
For example, if you buy tickets for a 7pm entry, please arrive shortly before 7pm and you will be admitted between 7 – 7:30pm.
If you do not arrive within the window of your scheduled entry we will allow you to enter within a later entry window, but not until all ticket holders for that time have been admitted.
Keiki Hours:
TERROR PLANET is recommended for ages 12 and up. We are pleased to announce the return this year of our keiki hours for ages 10 and younger… the very same haunt but with very mild scares and candy stations throughout. Keiki hours are:
Saturday Oct. 29 and Sunday Oct. 30 from 2:00 – 4:30pm. $15 per person
VIP Tickets:
New this year! VIP Tickets include front-of-line access, plus after going through the haunt you will get to spend 20 minutes on a viewing platform watching others get scared with an option to operate a gag. No groups larger than 4 on the viewing platform. Limited availability! Only on these dates: Oct 21, 22, 28-31
Chicken Skin(less) Time:
Also new this year! Want to see the haunt but not get scared? This option takes you through the haunt on a 15-minute guided tour right before opening time with no scares and the ability to see the set and costumes and hear a little about how it was made. Limited availability, only on Saturdays and Sundays starting Oct. 15. Must arrive 30 minutes prior to Haunt opening time.
Parking:
Street parking is often available on Beretania St and on Alapai St, but there is free parking available in the Frank Fasi Municipal Parking Lot. Enter from the makai side of Beretania St, just past the traffic light at Alapai St.
DO NOT PARK IN THE NEIGHBORING FURNITURE STORE OR DUMPLING SHOP PARKING LOTS – THEY WILL TOW!
Covid safety:
No COVID mask regulations are in place, but out of respect for our performers, we respectfully ask that our patrons wear them. No one is going to make you, but our actors will have thousands of people scream in their faces this Halloween season… please help them stay healthy through the end of the month!
Group size in the Haunt is limited to 5. If you have 6 members in your party, you will have to split up into 2 groups. NO EXCEPTIONS
No eating or drinking is allowed on premises, either in line or in the Haunt.
Other Rules:
Do not touch the actors or the props. VIOLATORS WILL BE REMOVED FROM THE HAUNT. NO REFUNDS GIVEN.
Do Not Enter If you Have/Are:
Recent Fever or Flu like Symptoms or Cough
Suffer from pre-existing health conditions, including but not limited to asthma, heart conditions, high blood pressure, back or neck injuries, broken bones or wearing a cast
Pregnant
Prone to dizziness, seizures, or suffer from motion sickness.
Our attraction may include uneven terrain, sudden noises, fog, strobe lights, jarring actions, vertigo inducement, or sudden motion. Failure to follow these guidelines could result in serious injury or expulsion from our attraction.
DO NOT ENTER if you've had recent surgery or using medication which could cause drowsiness.
DO NOT ENTER is you've been drinking alcohol or using any type of drugs.
DO NOT ENTER if you suffer from any type of mental health problems specifically fear of the dark, tight spaces or claustrophobia.
WE USE STROBE LIGHTS AND FOG!
NOT RESPONSIBLE FOR ANY INJURY!
ENTER AT YOUR OWN RISK!
No running allowed
ABSOLUTELY NO SMOKING, NO WEAPONS, NO ALCOHOL
We are not responsible for lost or stolen items
Find Us at KOA Theater
780 South Beretania Street,
Honolulu, Hawaii 96813
Click here, or on the map, to go to the Google map page.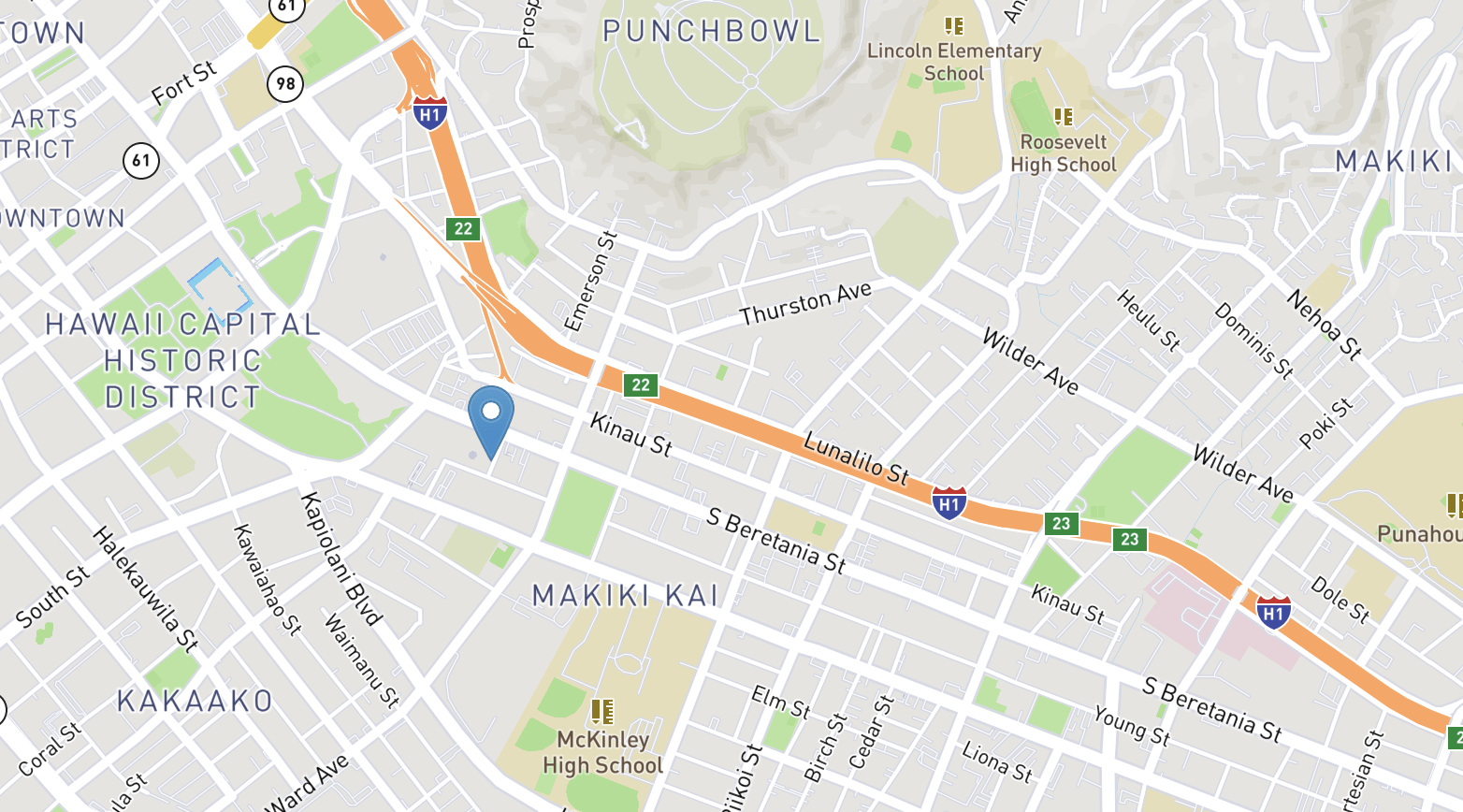 Get the Word out - Share To Social Media