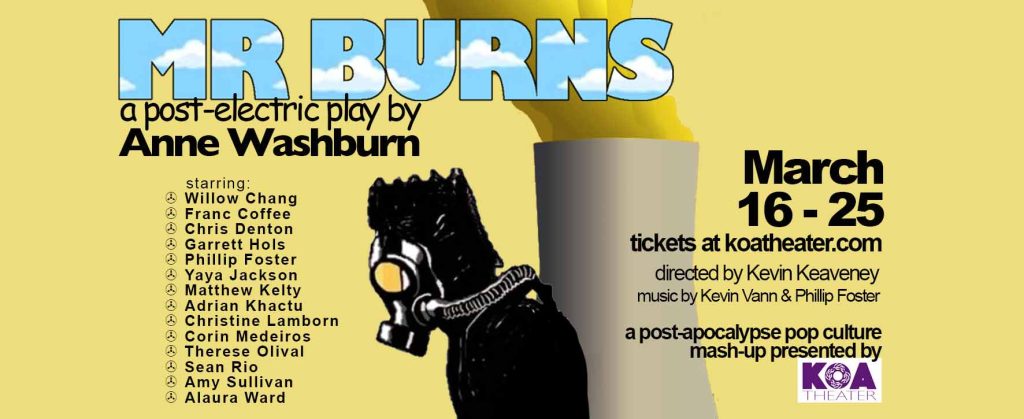 Mr. Burns by Ann Washburn,
Directed by Kevin Keaveney
New Dates: March 16 – 26, Thursdays – Sundays
In Washburn's post-apocalyptic world, the works of Joseph Conrad, William Shakespeare and Tennessee Williams apparently survive only in episodes of The Simpsons punningly titled 'Bart of Darkness,' 'Much Apu about Nothing' and 'A Streetcar Named Marge.'" – The Bard to Bart: How Mr. Burns Challenges Our Common Culture. – The Guardian
After the collapse of civilization, a group of survivors share a campfire and begin to piece together the plot of The Simpsons episode "Cape Feare" entirely from memory. Seven years later, this and other snippets of pop culture (sitcom plots, commercials, jingles, and pop songs) have become the live entertainment of a post-apocalyptic society, sincerely trying to hold onto its past. Seventy-five years later, these are the myths and legends from which new forms of performance are created. A paean to live theater, and the resilience of Bart Simpson through the ages, Mr. Burns is an animated exploration of how the pop culture of one era might evolve into the mythology of another.
Starring
Willow Chang
Franc Coffee
Chris Denton
Garrett Hols
Phillip Foster
YaYa Jackson
Matthew Kelty
Adrian Khactu
Christine Lamborn
Corin Medeiros
Therese Olival
Sean Rio
Amy K. Sullivan
Alaura Ward
Production Photos and Digital Program QR code
Got Questions About The Shows at KOA Theater?
Contact Us! We'll be happy to respond to your questions and comments.