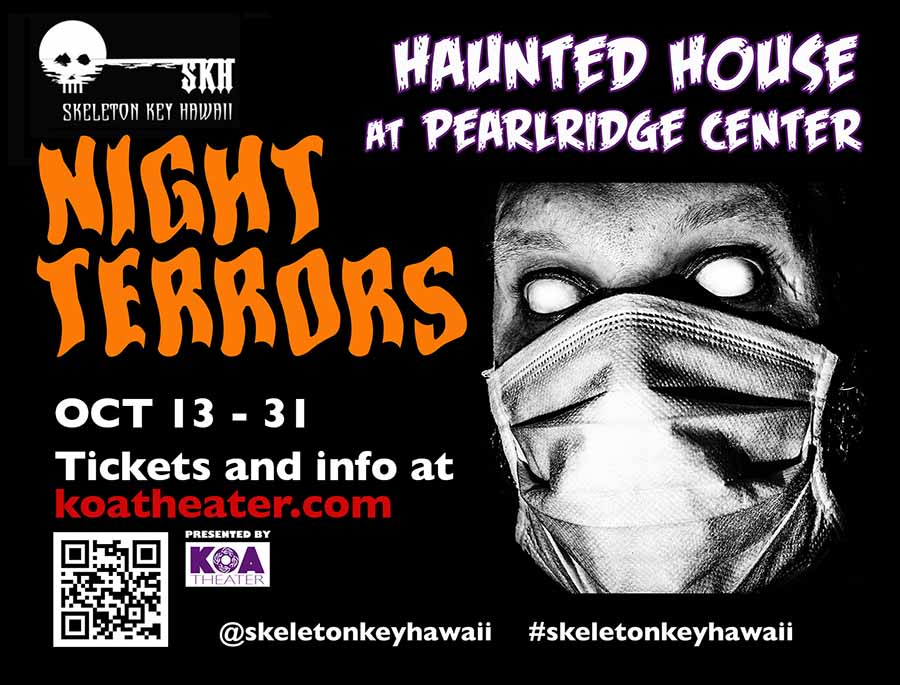 Skeleton Key Hawaii Haunt Presents: Night Terrors
NOTE: The Skeleton Key Hawaii Haunt's New Location is in the former Inspirations space at Pearlridge Center, Wai Makai, second level, directly below the movie theaters. Don't miss Oahu's best haunted attraction!
Every night we need 8 hours of sleep… when we could be working another job, pursuing a hobby, or spending time with loved ones… WHAT A WASTE!
Now, through the miracle of modern science, Romero Pharmaceuticals can unlock your full potential… with DOZ-A-BAN! This space-age, patent-pending, USDA-approved (also pending) cure for common sleep will revolutionize your life and allow you to earn another paycheck! Write the Great American Novel! Spend quality time with your family!
We admit that early prototypes of DOZ-A-BAN may have caused dreams and nightmares to escape into the waking world and terrorize some of our test subjects… but don't worry, we've worked out all the bugs now and are 99% confident that the current formula is correct! Pay no attention to those screams… they are screams of delight! Can you brave our drug trials and earn your place in history as a scientific trailblazer? After all, the monsters are only IN YOUR HEAD!
NIGHT TERRORS, is a walk-through haunted house, from the crew who brought you last year's hit TERROR PLANET (as well as FRIGHTMARES, CURSE OF THE MUMMY'S CRYPT, CARNEVIL OF SCREAMS and MUTANT MASSACRE).
Haunt Hours and Ticket Prices
Tickets are $25 online and $30 at the door (CASH ONLY AT THE DOOR)
Friday, Oct. 13 7:00 – 10:00 $13 SPECIAL!
Saturday, Oct.14 6:00 – 10:00
Thursday, Oct. 19 7:00 – 9:00
Friday, Oct. 20 7:00 – 10:00
Saturday, Oct.21 6:00 – 10:00
Sunday, Oct. 22 6:00 – 9:00
Thursday, Oct. 26 7:00 – 9:00
Friday, Oct. 27 7:00 – 10:00
Saturday, Oct. 28 6:00 – 10:00
Sunday, Oct. 29 6:00 – 9:00
Tuesday, Oct. 31 7:00 – 9:00
Information
Again this year the Skeleton Key Hawaii haunt will have Timed Ticket Entry to help cut down on wait times. Please arrive shortly before your scheduled entry time and you will be entering the attraction within a 30-minute window.
For example, if you buy tickets for a 7pm entry, please arrive shortly before 7pm and you will be admitted between 7 – 7:30pm.
If you do not arrive within the window of your scheduled entry we will allow you to enter within a later entry window, but not until all ticket holders for that time have been admitted.
WE STRONGLY RECOMMEND PURCHASING ALL TICKETS ONLINE BEFORE HEADING TO OUR HAUNT
VIP Tickets – $50:
Check out our VIP package for a unique experience! What's better than getting scared at our haunt? Watching others get scared! Our VIP Package offers front-of-line access, plus 20 minutes backstage on a viewing platform experiencing the scare from the other side! No VIP groups larger than 4. Limited availability!
Keiki Hours – $15:
NIGHT TERRORS is recommended for ages 12 and up. We are pleased to announce the return this year of our keiki hours for ages 10 and younger… the very same haunt but with very mild scares and candy stations throughout. Keiki hours are:
Saturday Oct. 21, Sunday Oct. 22, Saturday Oct. 28 and Sunday Oct. 29 from 2:00 – 4:00pm
Chicken Skin(less) Time – $5:
Back by popular demand! Want to see the haunt but not get scared? This option takes you through the haunt on a 15-minute guided tour right before opening time with no scares and the ability to see the set and costumes and hear a little about how it was made. Limited availability, only on Saturdays and Sundays starting Oct. 21. Must arrive by 5:30
Parking:
The mall closes early but we scare late! Please park on the second level and utilize the entrance to the left of Uncle's which will be kept open late for the use of our patrons.
No need to print your ticket, just bring ID or credit card to the door.
Group size in the Haunt is limited to 5. If you have 6 members in your party, you will have to split up into 2 groups. NO EXCEPTIONS
No eating or drinking is allowed on premises, either in line or in the Haunt.
Other Rules:
Do not touch the actors or the props. VIOLATORS WILL BE REMOVED FROM THE HAUNT. NO REFUNDS GIVEN.
Do Not Enter If you Have/Are:
– Recent Fever or Flu-like Symptoms or Cough, positive COVID test result or recent COVID exposure
– Suffer from pre-existing health conditions, including but not limited to asthma, heart conditions, high blood pressure, back or neck injuries, broken bones or wearing a cast
– Pregnant
– Prone to dizziness, seizures, or suffer from motion sickness.
Our attraction  may include uneven terrain, sudden noises, fog, strobe lights, jarring actions, vertigo inducement, or  sudden motion. Failure to follow these guidelines could result in serious injury or expulsion from our attraction.
DO NOT ENTER if you've had recent surgery or using medication which could cause drowsiness.
DO NOT ENTER is you've been drinking alcohol or using any type of drugs.
DO NOT ENTER if you suffer from any type of mental health problems specifically fear of the dark, tight spaces or claustrophobia.
WE USE STROBE LIGHTS AND FOG!
NOT RESPONSIBLE FOR ANY INJURY!
ENTER AT YOUR OWN RISK!
No running allowed
ABSOLUTELY NO SMOKING, NO WEAPONS, NO ALCOHOL
We are not responsible for lost or stolen items