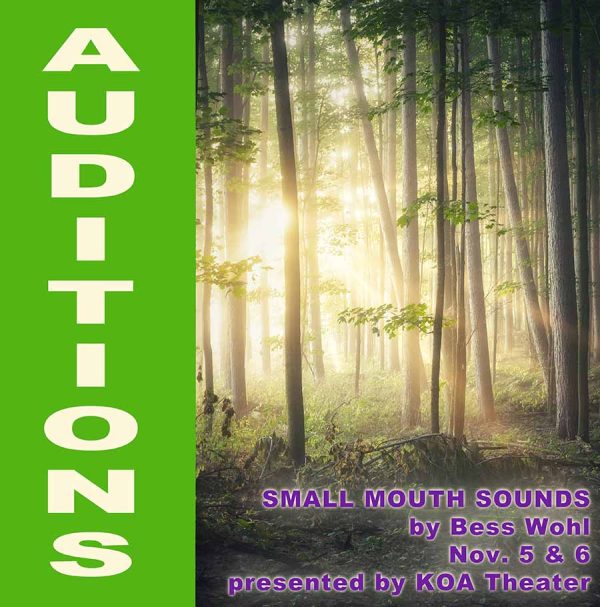 Auditions Small Mouth Sounds by Bess Wohl.
Actors will audition in person at KOA Theater, 780 S. Beretania St. on Saturday, November 5th from 3:30 – 6pm and Sunday, November 6th, from 6:30-9pm.
Seeking actors of all ethnicity, gender identity, and experience for Pulitzer Prize-nominated Small Mouth Sounds by Bess Wohl (often described as either the saddest comedy or the funniest tragedy in recent years)!
REHEARSALS: evenings M-F (possibly weekends if actors schedule demands it instead). First rehearsal Nov. 14
SHOW DATES: January 13-29, 2023
We're also seeking an AD/SM for this process. No experience required, just better organizational skills than my own (a low bar to clear).
About
In the overwhelming quiet of the woods, six runaways from city life embark on a silent retreat. As these strangers confront internal demons both profound and absurd, their vows of silence collide with the achingly human need to connect. Filled with awkward humor, this strange and compassionate new play asks how we address life's biggest questions when words fail us.
What to Prepare:
Actors will be asked to present a personal ritual rather than a monologue at the audition – since Small Mouth Sounds is a largely silent play, we are looking for actors who are willing to silently experiment with how using their body in space can dictate the way a story is told and the way a moment of action unravels into the next action. Below are guidelines for the personal ritual actors will create & then present at the audition. If you have further questions after reading through the guidelines, feel free to reach out to Dir. Kevin Keaveney (kevin@kailuaonstagearts.com) for clarification. No appointment necessary, but if you have individual scheduling issues that would be eased by having a certain time slot, reach out and let us know.
RITUAL GUIDELINES/TIPS:
Rituals can be….
Private (grooming/hygiene tasks; rituals relating to personal hobbies done alone; cleaning tasks; etc)
Professional (tasks relating to ones' job/workplace/profession)
Religious/spiritual (prayer; meditation; rituals relating to grief/mourning; rituals relating to birth; rituals related to religious holidays;etc)
Vices (smoking; drinking alcohol; morning coffee; extreme couponing; etc)
Rituals ≠ Routines! A routine is a series of rituals- you don't need to show your whole morning routine, just one personal ritual
Some roles will also read from sides during the audition and they can be found by clicking here.
Kevin Keaveney
Artistic Director, KOA Theater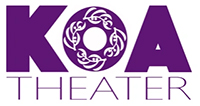 Available Roles
Joan (Age Late 40s): A therapist and sex educator. Warm, open, and compassionate, she is also incredibly, mind-bendingly angry underneath.
Judy (Age early 50's): Joan's partner. Works at O magazine as a top editor in the art department. She's the kind of person who only needs four hours of sleep per night—she's direct, competent, and capable. She was recently diagnosed with breast cancer, and, as the doctor said, she "will not have a good outcome."
Alicia (Age late 20's – 30's): Around thirty-ish, from Southern California. She is the kind of person who manages to make a lot of noise even when she's "in silence." She recently went through a very bad breakup and is looking for something– or somebody–to make her feel okay again.
Ned (Age 39): A Jewish guy from Great Neck who works for a non-profit called Earthwatch and has had a severe run of bad luck worse than the worst country-western song. Anxious, insecure, and angry.
Rodney (Age Mid-30s): ageless, fit, gorgeous, grew up in the Pacific Northwest, teaches yoga in New York and the Hamptons. Though he is married, his extensive man jewelry does not include a wedding ring.
Jan (Age 40s-50s): from a small town in Finland. He does not speak much English. He is pale and sweet, with a wide-eyed, continually curious air about him, like a sprite or a woodland creature. He is a pastor at a small, Lutheran church back in Finland.
Teacher (Age/gender ANY): A disembodied, androgynous voice with a strange, slightly accented way of talking. The androgynous tone might be the result of some kind of sickness, or might be just the way the teacher sounds. Never seen, only heard.
*Notes:
The characters of ALICIA and RODNEY have an intimate and implied-sexual scene in this piece that will require some physical touch between the two actors playing those roles.
The role of RODNEY also has an unrelated, non-sexual scene involving nudity, and ALICIA, JUDY and NED appear at one point (also in a non-sexual context) in only underwear.
We will be following the best practices in the rehearsal room regardless- but, if you are interested in these roles and NOT comfortable with physical touch, intimate contact, or nudity/almost nudity, please make note of it on your audition sheet so we can take your comfort and safety into account as we move forward.